Main Content
Neighborhood Lake Thoreau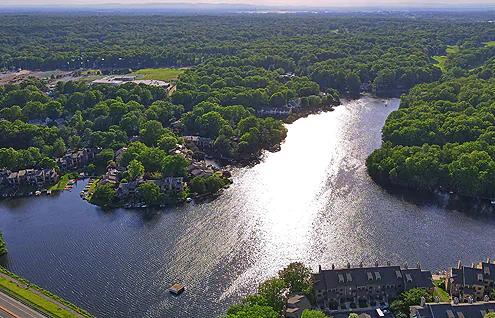 Lake Thoreau is one of four artificial lakes in the master-planned community of Reston. It has a surface area of over 43 acres and offers countless opportunities for fishing, boating, lakeside picnicking, and nature and wildlife watching. This scenic lake is surrounded by cherry trees and wildflowers as well as aquatic plants like milfoil, hydrilla, fanwort, and pondweed.
The lake was created in the early 1970s by damming a stream that flowed through the area. Initially, Lake Thoreau and Lake Audubon were meant to be a single body of water named Elsa Lake after town founder Robert E. Simon Jr.'s mother. Instead, developers decided to create two separate lakes and named this one after American author and naturalist Henry David Thoreau.
Today, Lake Thoreau is among Northern Virginia's finest outdoor attractions. It is fed by several streams and is home to a variety of native wildlife, including turtles, beavers, great blue heron, wild geese, white-tailed deer, red foxes, and several species of fish.
What You'll Love About Lake Thoreau
Scenic hiking and biking trails: The Lake Thoreau Loop Trail, also called the Red Loop, is a two-mile paved trail circling the lake with hilly sections and breathtaking views of the western edge of the lake. The trail is popular with hikers, cyclists, and dog walkers.
Fantastic boating and fishing: Lake Thoreau is regularly stocked with largemouth bass, channel catfish, and other species of game fish. Anglers have also caught bluegill and redear at the lake. The fishing dock is located by the pool at Sunset Valley Drive. Visitors can also explore the water with boat, canoe, and kayak rentals.
Local shopping and dining: South Lakes Shopping Center is anchored by locally owned Restaurants Red's Table and CafeSano and offers every day conveniences such as CVS Pharmacy, Safeway, and UPS along with several coffee shops,casual dining restaurants, and service providers. The outdoor plaza features an amphitheater, picnic areas, and stunning views of Lake Thoreau
Excellent schools: Schools in and around the Lake Thoreau area include Terraset Elementary School, Langston Hughes Middle School, and South Lake High School.
Real Estate In Lake Thoreau
There are two residential streets on opposite sides of Lake Thoreau, with both streets offering Contemporary-style homes and breathtaking views of the water:
Purple Beech Drive is a peaceful cul-de-sac that runs parallel to the lake. The street has a combination of single-family homes and townhomes, many of which were built between in the 1970s and 1980s. The majority of the homes are situated on large wooded lots with spacious viewing decks and patios that overlook the lake.
Upper Lake Drive is a horseshoe-shaped road bordering the shoreline of Lake Thoreau. It has a number of single-family homes and townhomes situated on smaller lots with wooded yards.
Lakewinds is a HOA-governed townhome community on the southwestern banks of Lake Thoreau. It is divided into Clusters I and II with three-level townhomes and assigned parking spaces.
The most coveted properties in the Lake Thoreau area are waterfront properties. Although not all homes in the area are situated on the shore, living on Lake Thoreau provides easy access to water-based activities as well as a variety of nearby shopping, dining, and entertainment options.
Lake Thoreau Listings

Sorry we are experiencing system issues. Please try again.

There's no result found.