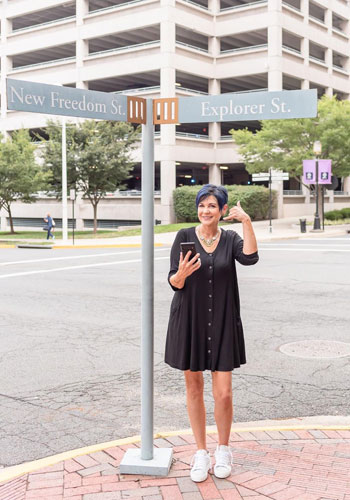 Our Team has worked with Michelle Singer on hundreds of transactions over the course of ten years. We not only trust Michelle with our personal loans, we trust her to be the best resource for our clients. She takes a personal interest in working through her clients total financial picture and goals; to ensure she is helping them find the best product for their needs. Most loan officers ask a few questions and issue a prequalification letter; Michelle takes the time to offer guidance and suggestions that can be helpful for a purchaser throughout the homebuying process and for years to come.
Meet Michelle Singer
Loan expert Michelle Singer approaches mortgages with a mission: To help each client achieve their homebuying hopes and dreams. As Senior Mortgage Advisor for Fairway Independent Mortgage company, Michelle fulfills that goal every day, pairing her vast knowledge of lending with a penchant for thinking outside of the box.
For as long as she can remember, Michelle has been passionate about empowering others to navigate momentous fiscal situations with success. After launching her career in banking, Michelle made the seamless move to mortgages when her company went through a transformative merger. As it turned out, the world of real estate proved to be the perfect fit for both Michelle's financial acumen and personal service style.
Today, Michelle helps every client find and apply for the right mortgage — whether they're buying their very first home or searching for their third. Revered as an experienced advisor with attentive communication skills, Michelle takes the time to get to know every client (along with their financial profile) before finding the best solution for their distinct needs and goals. Her extensive grasp of lending is rivaled only by her unconventional creativity; whatever the challenge, Michelle will always meet it head-on with a nuanced perspective that empowers her to see every transaction through a fresh lens.
When she's not building custom solutions for her clients, chances are, you'll find Michelle experimenting with new recipes in the kitchen, honing her golf game, and spending time with her family.
Michelle Singer | Senior Mortgage Consultant
Fairway Independent Mortgage Corporation
703.554.2212
Email Michelle
Apply with Michelle